We are Florida's leading source of Living (AKA Strolling) Tables! Make your event

unforgettable

with the addition of this glamorous AND functional focal point which can distribute beverages, hors d'oeuvres, party favors, & more...
​
Strolling around in the Living Table, the entertainer passes out your object of choice while greeting & interacting with your guests. They also make an incredible photo op!
​
You can select one of the below styles, or request customization to your event theme.
Scroll down for videos + FAQ.
FAQ
Are Living Tables the same as Strolling Tables?
Yes! They have various names, such as Champagne Skirts, Living Dresses, and Live Tables.
What's the difference between the Tables?
One version of our Living Tables is tiered, and the other version has a flat-top.
How many Living Tables do you have available?
Four total. We have two tiered Tables, and two flat-top Tables.
​
​
​
​
​
​
​
​
​
How many glasses/goblets/flutes can each Table accommodate?
Around 55. We recommend that the client designate an individual, such as a server from the catering team, to be nearby to facilitate re-stocking.
​
Are the Living Tables on wheels?
Yes, all our Living Tables are mobile/on-wheels. Check out our videos below to see one in motion!
​
Can a male be in the Living Table?
Of course! Please specify that when booking.
​
So what can a Living Table distribute?
Any beverage, dessert parfait, place-cards, programs, food, party items, name tags, or any other item you'd like to give to your guests.
​
Can guests take photos of and/or with the Living Tables?
Absolutely! The Tables make great photo ops. (If you are a business/have a logo we can incorporate it into the costume if you'd like to have your brand showcased.)
​
How long are they on the floor?
Typically 90 minutes. This can be straight through or broken up into segments. However we are able to customize the duration to your needs.
​
Are they kid-friendly?
Absolutely.
​
How high/tall are the tables?
Nearly 4 feet. The entertainers inside are around 5'10" to ensure the tables reach their waist.
​
How wide are the tables?
The tiered Table is around 5 feet wide. The flat-Top Table is about 4 feet wide. Both Tables can be broken down to fit through any doorway or space.
​
What types of glassware fit into the tiered Table?
Pretty much any glass with a stem! Please see the image below which showcases possibilities.
​
Living/Strolling Table at Cirque du Soleil event.
00:17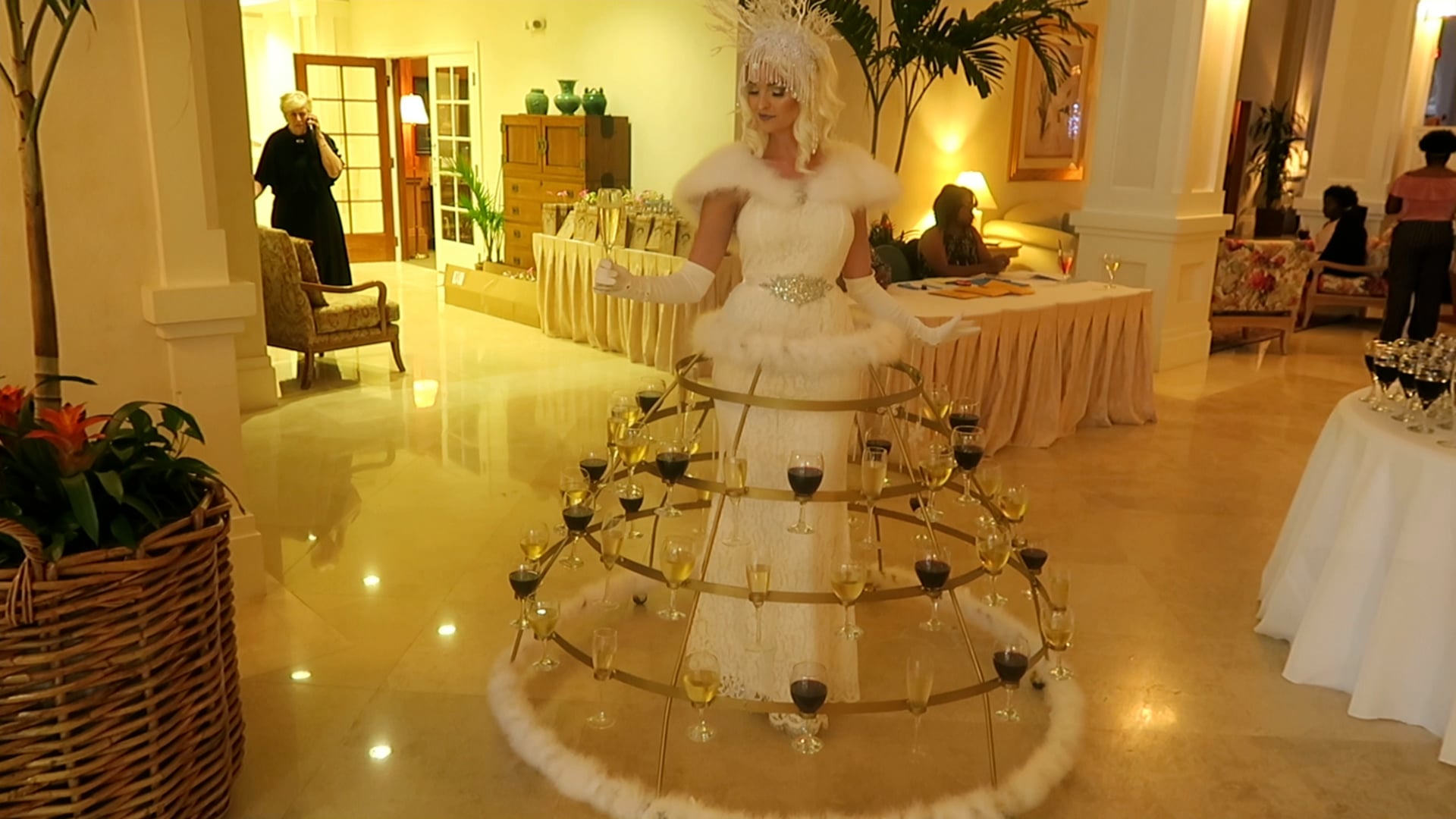 Ice Queen Living Table
00:18
Silver Living Table (Flat-Top)
00:08